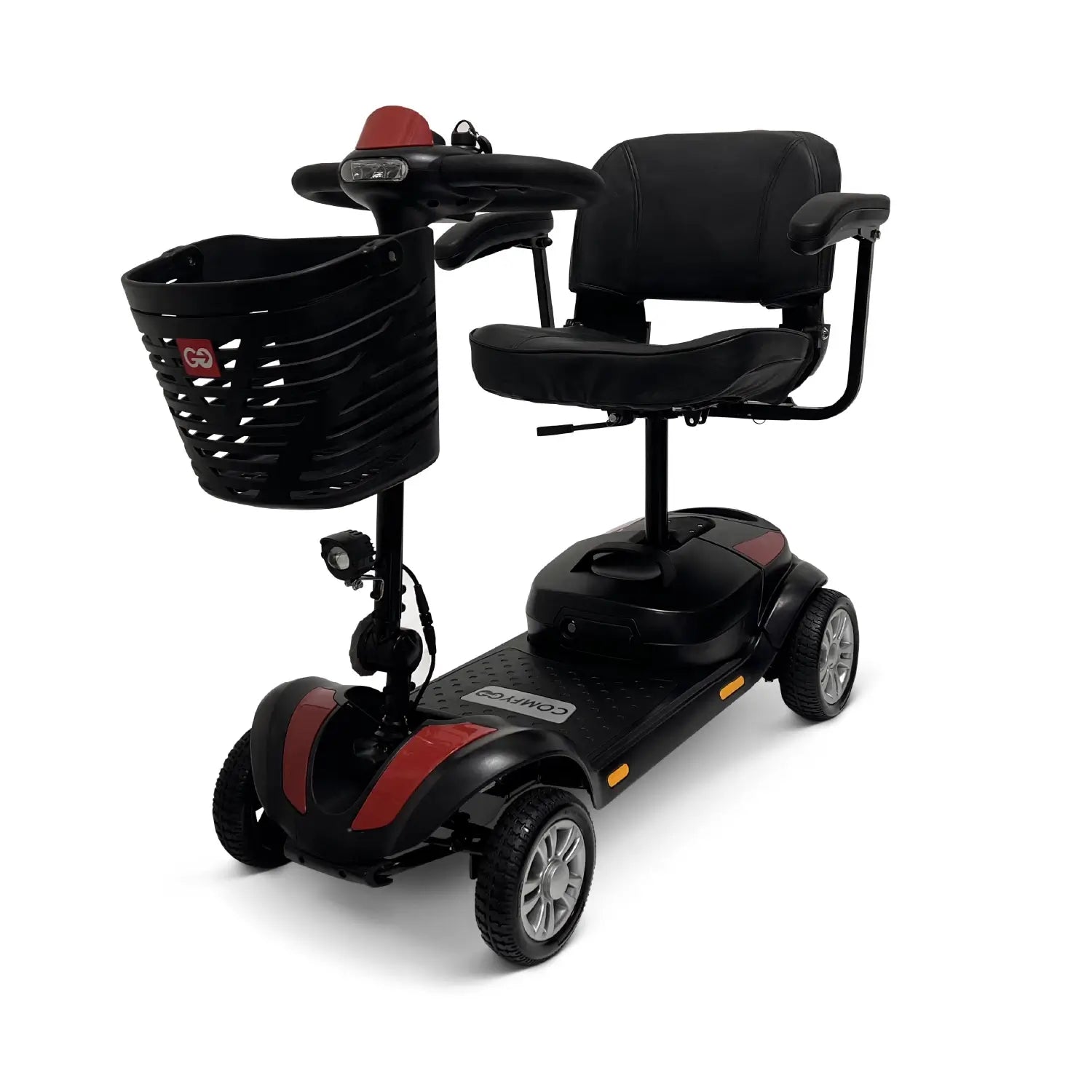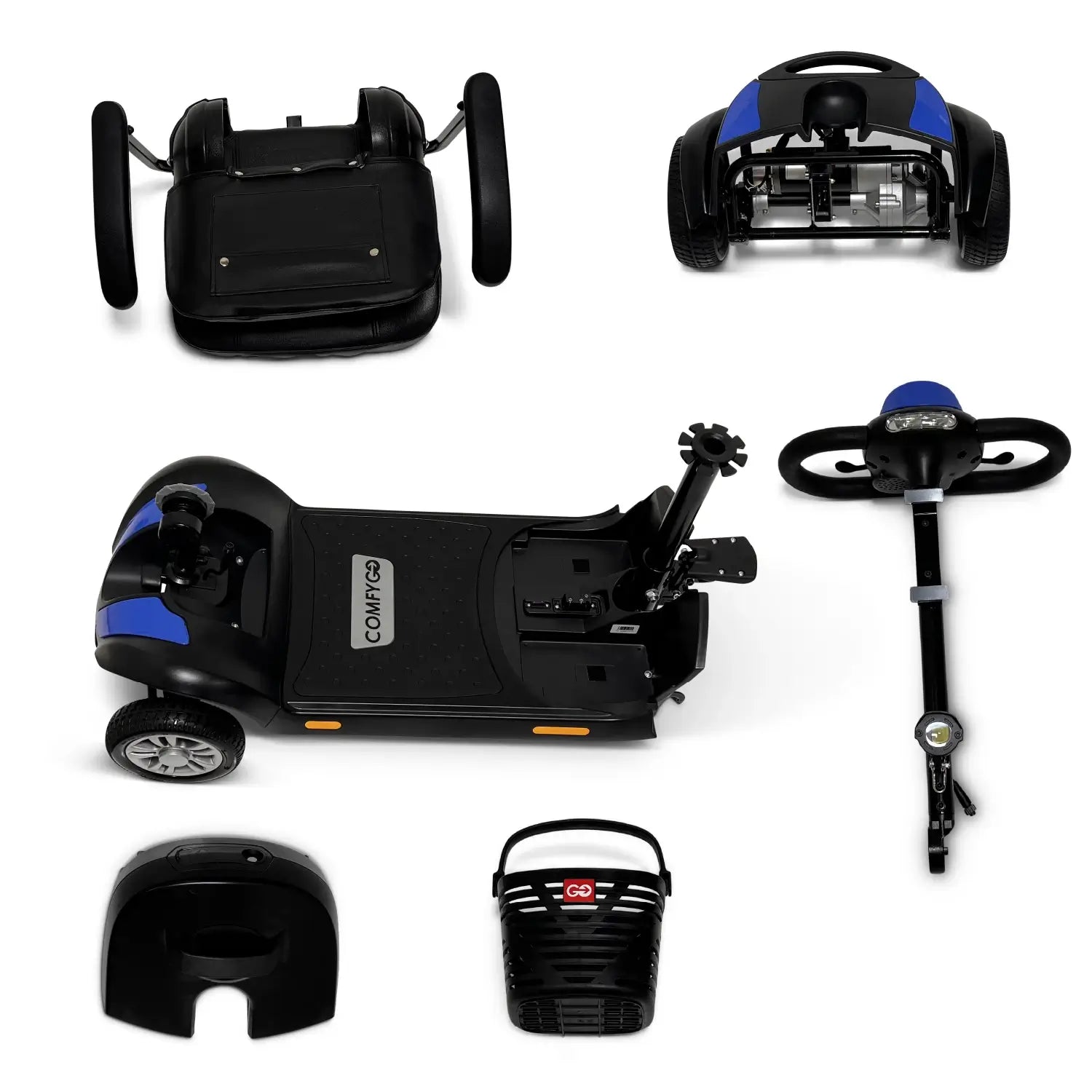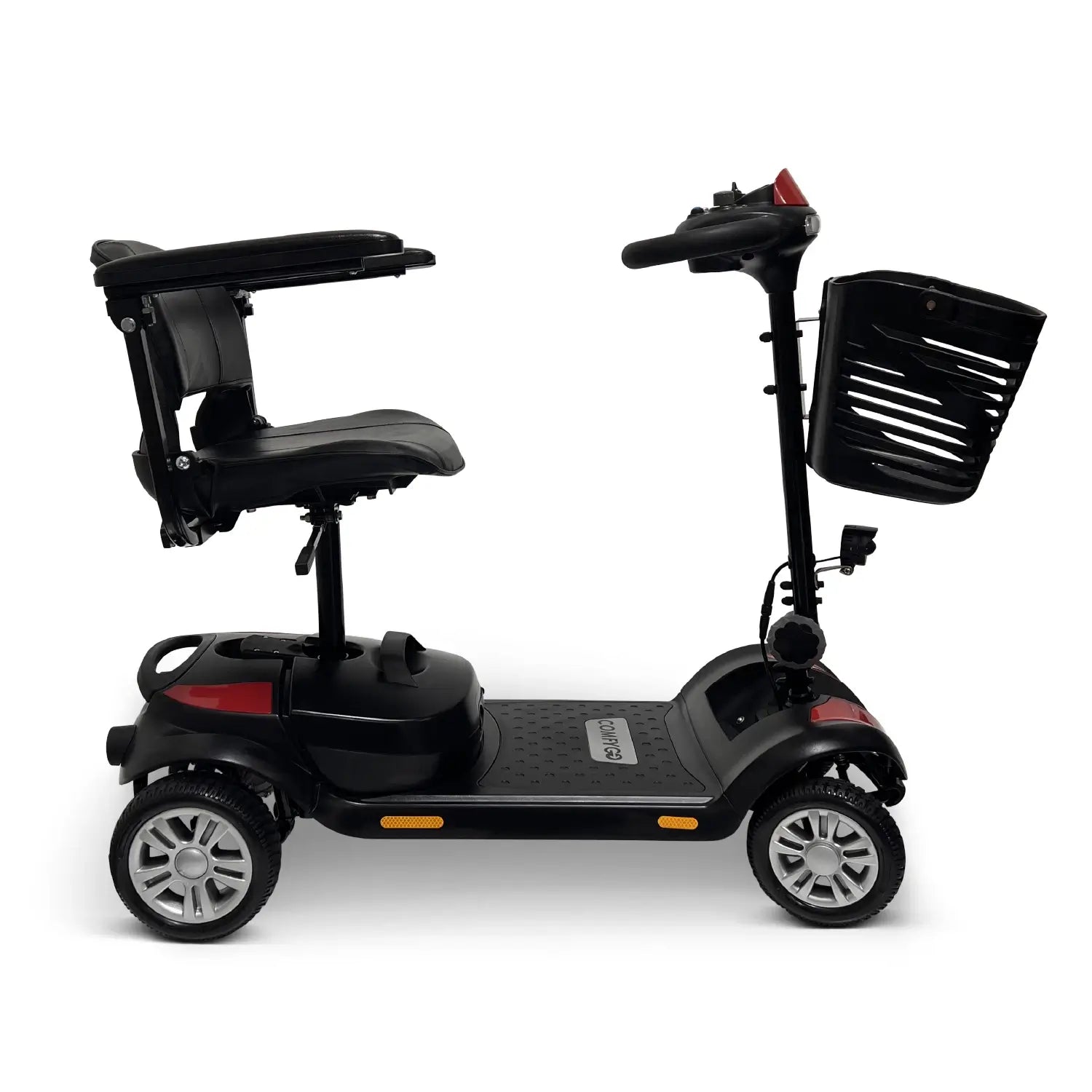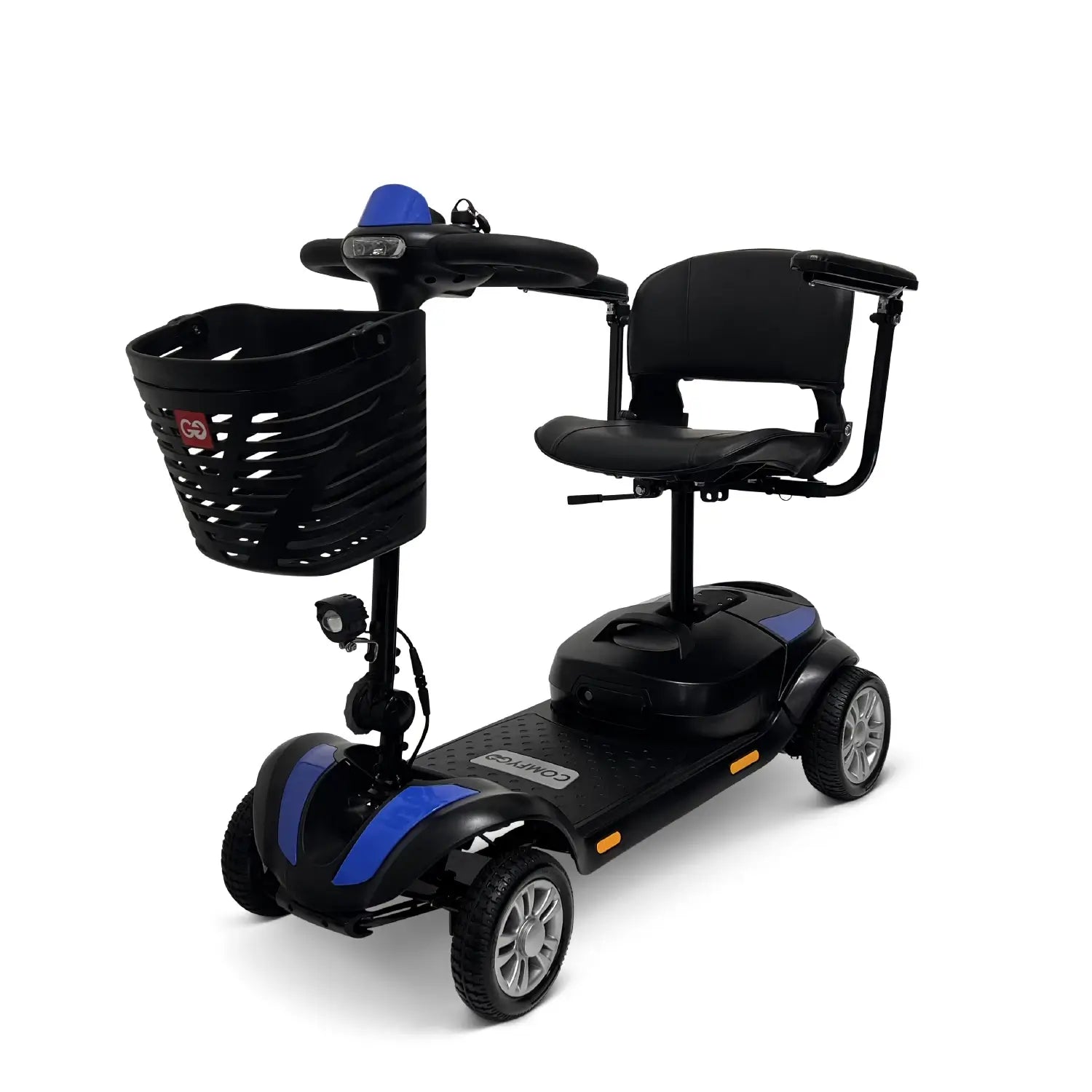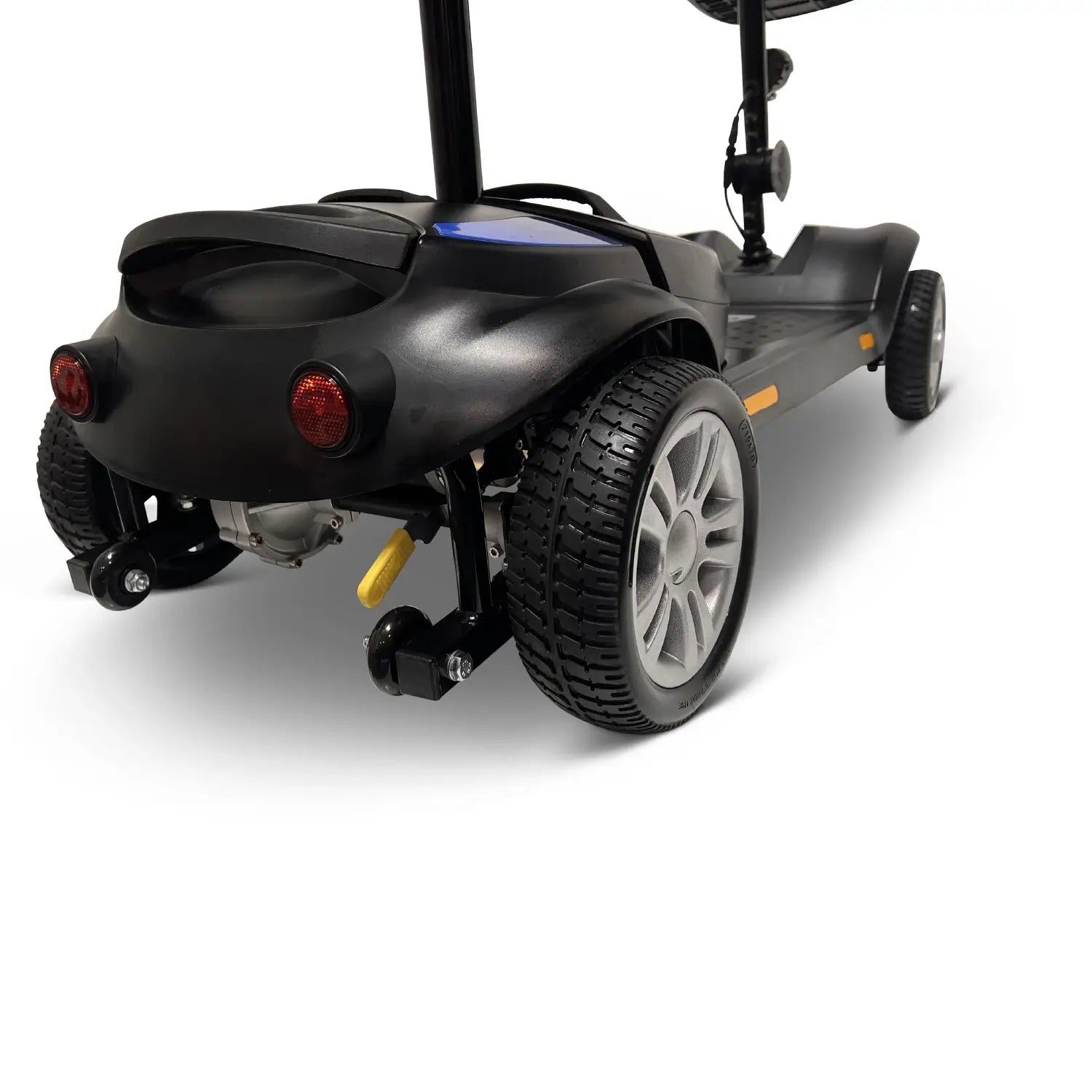 The Z-4 mobility scooter offers simple and intuitive controls, designed for comfortable use with either the left or right hand. Powered by a 250W bridge motor, it delivers exceptional performance across various terrains. The intelligent electromagnetic braking system ensures reliable stopping capabilities, providing a safe and smooth driving experience. Enhanced visibility is guaranteed with the inclusion of front upper and lower dual headlights, making the Z-4 a practical and versatile choice for your mobility needs.
The Z-4 mobility scooter is designed for ultimate portability, easily detaching into six pieces to fit even the smallest car trunks. With two interchangeable color accents to choose from, you can personalize your scooter and change its appearance to suit your style. The Z-4 also features an adjustable-width super seat, specifically developed for optimal comfort. Experience the perfect combination of convenience, customization, and comfort with the Z-4 mobility scooter.
The Z-4 mobility scooter offers two lightweight battery options to suit your needs: the 12AH and 30AH lithium-ion batteries. The 12AH battery is airline and cruise approved, providing a range of up to 13 miles, while the 30AH battery offers an extended range of up to 30 miles but is not airline approved. Designed for user convenience, both batteries can be charged while installed in the scooter or independently, ensuring uninterrupted mobility and ease of use. Choose the Z-4 for a versatile and adaptable mobility solution tailored to your requirements.
Does my scooter arrive fully assembled?
Your scooter will arrive almost fully assembled. When your scooter arrives, you'll need to attach the remaining parts.
Can my scooter go on an airplane or cruise?
Yes. The 12AH (288WH) lithium-ion battery is travel approved by most major airlines and cruise lines. Before travelling by airline or cruise, please contact the airline or cruise line to confirm their travel battery regulations.
I've run out of battery. Can I push my scooter?
Yes. The Z-4 scooter can operate without battery. To do so, make sure the power is off, then disengage motor by pulling the levers on the motor to the unlocked position. Doing this will set your scooter to free wheel mode.
Does the armrest raise?
Yes. Both armrests can raise to allow an easier exchange or to make it easier to push you scooter closer to a table
How do I charge the battery?
The lithium-ion battery can be charged through directly on the battery. The charge time for an empty battery is 6-8 hours. If your battery has a partial charge, the charge time will be less. When the battery is fully charged, unplug the charger from the battery and unplug it from the power outlet.
Does my scooter come with a warranty?
Yes, The Z-4 scooter comes with a standard 3-year frame, 1-year motor, 1-year battery, and 1-year electronic parts warranty.
Can I use my scooter on dirt and grass?
Yes. The Z-4 can traverse low grass and compacted dirt with ease.
Where can I find the serial number of my scooter?
The serial number can be found in three places, on the frame near the footrest, in the product manual, and on the box the wheelchair was shipped in.
How do I register my product?
To register your product, simply click here https://www.comfygomobility.com/pages/product-registration/
Shipping & Delivery
All orders are processed within 1 to 5 business following the receipt of your order. (Excluding weekends and holidays). You will receive a notification when your order has shipped.

Our in-store pickup hours are 9 AM to 5 PM Monday through Friday. Please call before your scheduled pick-up date and have your order confirmation email when you arrive.

Shipping options and shipping charges for your order will be calculated and displayed at checkout.

Deliveries conditions and their policy terms are made by 3rd party shipping companies such as DHL, FedEx, UPS, or other couriers. The transportation company may contact you by phone using the contact information.

Take advantage of our White Glove Delivery option.